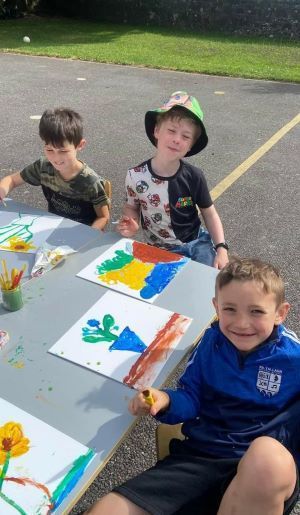 Final Art Lesson School Year 2023-Plein Air Painting
Our final Art Class for the School Year 2022/2023 (under the guidance of our Artist in Residence Cathy Giles) was painting Sunflowers inspired by Vincent Van Gogh and our outdoor gardening!
Plein Air Painting 
En plein air is a French phrase meaning "in the open air." During the late 1800s, circa 1860-1890, en plein air painting became increasingly popular among renowned and amateur painters alike.
It all began in 1841, when an American artist started putting his paints in metal tubes. Up until that point, artists were mixing their own paints every time their palette ran dry. With new conveniences, artists could take their paints and a collapsible easel on the road, and explore new rail lines leading out to the country.
In 2023, plein air painting workshops are just as popular as ever, even becoming one of the favoured pandemic pass times.
Earlier in the year, the children in Kiltallagh studied the impressionist painter Monet and his Waterlily painting- another example of Plein Air Painting.
When Monet was questioned as to where his studio was, he famously pointed to the River Seine and stated : "That's my studio"
                                              🌻 
🌻   🌻  🌻  
🌻  
🌻   🌻  🌻  
🌻  
🌻   🌻  🌻  
🌻  
🌻   🌻  🌻  
Thank you Cathy for all your enthusiasm and expertise and inspiring all the children in Kiltallagh National School to explore their creative abilities.
You truly are a treasure 😊